Subepithelial Connective Tissue (SCT) Grafting 
Free gingival grafts have been routinely used since the early 1960s with a high degree of predictability to increase the zone of attached gingival. P. D. Miller showed they could be used predictably for root coverage (Int. J. Periodont. Rest. Dent. 1982,83,85), but the tissue was thicker and lighter than the adjacent gingiva. He found that a gingivoplasty after complete healing improved esthetics. 
The use of SCT for gingival grafting was introduced in the mid-1970s. Langer & Langer introduced the technique of using it for root coverage (J. of Perio. 1985:56, 715-720), improving esthetics by a closer color blend with adjacent gingiva. With the technique for obtaining SCT, the palatal wound has primary closure and thus faster healing.
Sequencing With Restorative Procedures
Category 1 
Prior to the placement of veneers or full crowns - to reduce the need to carry veneers or crown margins onto root surfaces. 
Prior to bleaching - to reduce the possibility of bleaching-induced sensitivity. 
Prior to and during orthodontic treatment - if there is a dehiscence or lack of keratinized tissue. 
Category 2 
Following the restoration of class V lesions; restore to the CEJ, then the gingival is brought to the CEJ. (Figs 1a and b)
To cover exposed crown margins 
Extraction of decayed roots under large bridges with bone grafting (Figs 2a-d)
Ridge augmentation (Figs 3a and b)
Periodontal root coverage procedures can create a naturally aesthetic result that will blend with the adjacent tissue. When combined with the bonding of any residual defects, this procedure enhances our ability to restore form and function in a manner not previously possible.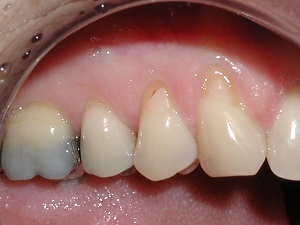 Fig. 1a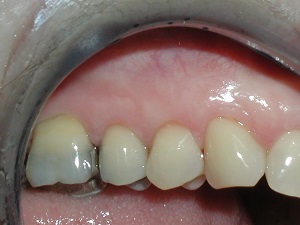 Fig. 1b
In our practice, we do both vertical and horizontal edentulous ridge augmentation to improve support for implants and eliminate ridge deformities prior to bridges or orthodontics. See the above ctgraftletter for some examples of how we did this with only soft tissue. We laminated this and gave it to referring dentist in 2005. More severe defects can be treated by combining this with bone augmentation.