Research shows that root canals have a success rate of 91.7%. Slightly more than eight times in a hundred, a root canal fails. The root canal system of a tooth branches out at the end of the root-like a delta on a river forming accessory canals. If a sufficient number of these have necrotic pulp tissue, bacteria can grow, and an abscess will occur. If you have periodontal disease (gingivitis or periodontitis), bacteria from the mouth enter the bloodstream and will grow in susceptible areas. Depending on the amount of pressure that builds up, there may or may not be symptoms (pain and/or draining fistula – pus pimple near the tooth). An x-ray would most likely show a dark area (radiolucency) at the end of the root varying with the length of time infection. 
There are three options to resolve this problem.
a) Apicoectomy - remove the last 3 mms of the tooth (research shows us that most accessary canals are located here). The canal is prepared for a retrograde filling of MTA (a biocompatible material that bone can grow up to). A bone graft with a barrier membrane is done to ensure complete bone repair in the void in your jaw.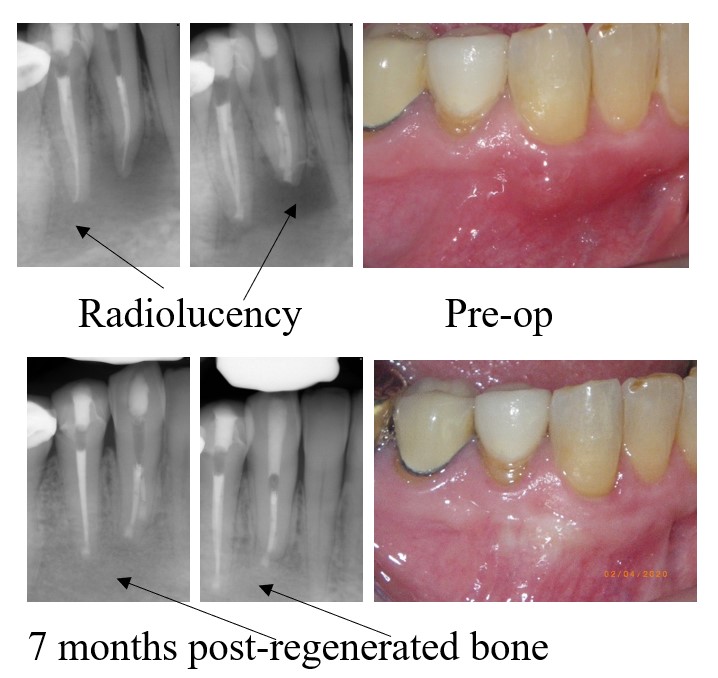 b) Retreatment of the root canal in a conventional way by your endodontist or general dentist
c) Extractions - Tooth extraction is a relatively quick procedure that can be done under local, general, intravenous, or a combination of anesthesia by a dentist or oral surgeon. Extraction of visible teeth is a simple procedure. A more extensive process is required for teeth that are fractured, below the surface or impacted.
Call us at (401) 273-6161 or schedule an appointment with our experienced dentist at our dental office in Providence, RI. We'll be happy to guide you further.